Well, this has been quite an interesting week. I have been busy busy busy, and honestly I have been to unfocused to create my normal fashion self-portraits. BUT… I wore some really ace outfits this week and it just so happens I caught one of my favorite on my iPhone. *Images mostly shot by my little sister*
Jess and I went to the county fair this week. They had an exotic animal rescue organization come in and share what they do with the crowd. I must admit, it was strange seeing a camel in my home town. Last I saw one I was in Egypt! Pre-revolution, of course.
Outfit of the Week: 
Gray Summer Dress (Suggestion: Belted Sheath Dress)
Red Hat (Suggestion: Red Wide Brim)
Red Belt (Suggestion: Good Will)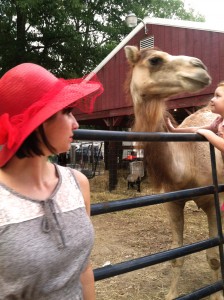 We became friends! I also met a coatimundi named Olivia. She likes to bite, so I didn't get too close.
I think this is the only picture I have that shows the actual dress. It is one of the most comfortable summer dresses I own. I'm also rocking out red lipstick and a skinny red belt. I felt like throwing in some POP to my outfit. And boy did it pop. I got more attention than I expected for a place like a fair.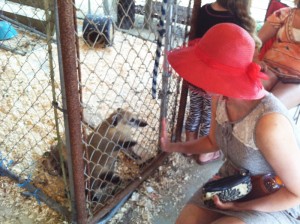 Here's Jess and I, cheesin' for the camera. Got to figure out a way to make iPhone pictures more flattering…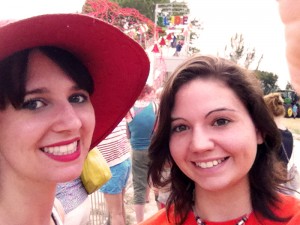 To wrap, this week I have some major photo shoot plans coming up, and will be challenging myself to up the quality of the final images since I accidentally-but-not-really took this week off. I still used my DSLR (freelancing gig!), I just didn't take any professional self-portraits. Gotta give myself a break, it's summer-time!
I am a media story-teller, who loves to write scripts and take pictures of myself. If you are looking to look good on camera, I'm your gal. I specialize in video-portraits, headshots, and family pictures. You know, the kind you frame and hang on the wall and share on Facebook? :) Located in MD, USA. We are SO going to make this happen! Email beth@elizabethewing.com for pricing.

And FYI, I'm rebuilding my website. But come my birthday (that's June 17th, mark it on your calendar!), my first newsletter is hitting the interwebs. OOOoooOOooo. Chills!